Singapore — Vietnam has been slashing crude production volumes since late in the first-quarter and the Southeast Asian producer plans to continue limiting supply in an effort to improve its upstream economics, and lay the foundation for a recovery in the price differentials of the country's major export grades.
Vietnam has followed in OPEC's footsteps and started to cut its crude oil and condensate production sharply from March, playing its own part in helping to balance global supply and demand following the coronavirus outbreak.
State-run PetroVietnam aims to produce 10.62 million mt of crude oil in 2020, down 18.9% from 13.09 million mt in 2019, a company official told S&P Global Platts previously.
Vietnam is expected to have produced 796,800 mt (188,405 b/d) of crude oil in May, a 20.1% decline on the year, according to the latest data from the General Statistics Office. During January-May, Vietnam is estimated to have produced 4.79 million mt, or around 35.11 million barrels, of crude oil, an 8% dip from a year ago, the data showed.
PetroVietnam said it may further cut its crude oil production target as oil prices are too low and exports are no longer profitable.
The Southeast Asian producer's rigorous efforts to control its production volumes has not gone unnoticed as the price differentials of Vietnam's flagship export crude grades have staged a sharp recovery in the Asian spot market in recent weeks.
Platts assessed Vietnam's Bach Ho crude at a premium of $1.35/b to Dated Brent on May 29, a sharp rebound from a record low of minus $4/b assessed on May 6.
Another flagship grade Su Tu Den has also staged a strong rebound in recent weeks. The medium-heavy sweet grade was assessed at a premium of 85 cents/b to Platts Dated Brent on May 29, the spot differential rebounded by more than $5/b since it was assessed at minus $4.45/b on May 5, Platts data showed.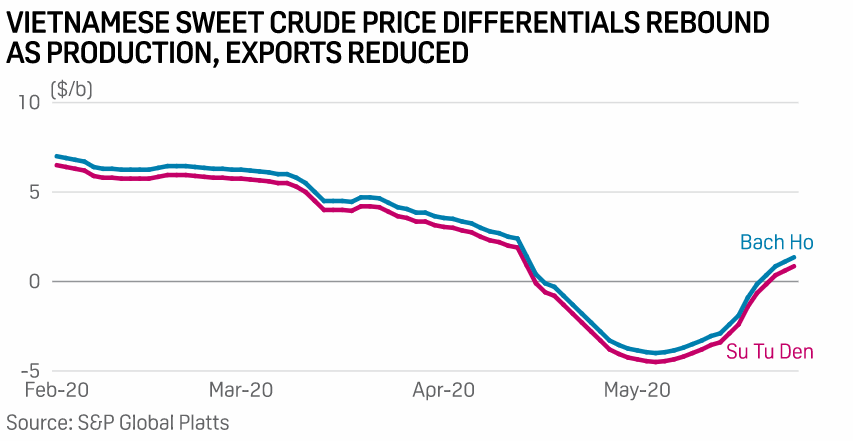 PRODUCTION, EXPORT ECONOMICS
Industry officials in Vietnam said the rebound in spot market differentials could be a precursor to a broader recovery in outright prices, and a subsequent improvement in the country's upstream and export earnings.
"$5/b recovery in the differential is indeed a positive sign as it represents fundamental physical demand in the regional market has improved," a marketing source at PV Oil, PetroVietnam's trading arm, said.
"The rebound in physical market price differentials would hopefully translate to stability in the broader outright prices as well. We see economic activity across the region resuming and oil demand improving," a trading manager at Saigon Petro said.
Vietnam's crude oil sales and export earnings are estimated to fall $225,000/day for every $1/b decline in outright crude values. If prices are quoted at around $30-$35/b, PetroVietnam is likely to lose $3 billion in sales value this year, PetroVietnam said earlier.
Despite the production cuts, Vietnam ended up exporting more cargoes in the first fourth months of this year as demand destruction at home forced the country to sell as many surplus barrels as possible in the international market, industry officials and trade sources said.
"However, exports are estimated to have plunged from May and it's important to keep both production and exports in check over the next few trading cycles to prop up prices and better manage the upstream balance sheet," the PV Oil source said.
Vietnam exported around 12.46 million barrels of crude oil over January-April, up 24.1% from the same period last year, mostly to China, Thailand and Australia, latest customs data showed.
But for cargoes loading on later dates, PV Oil had sold most of the barrels to domestic refiner Binh Song Refining at a premium of around $1-$2/b to Dated Brent for the June loading cycle and at a premium of around $2-$2.50/b to Dated Brent for the July loading cycle, trade sources with close knowledge of the regional spot market deals said.