At NSRP, we practice the concept of respect for human being in the conduct of our business. From our point of view, working responsibly means seeking to leave positive impacts in the area and social environment where we operate our businesses. We desire to benefit nearby communities with our presence, improve their livelihoods and achieve sustainable development. Hence, we set our objectives of Social & Community work as:
Ensure NSRP's compliance to IFC Performance Standards as required by Lenders under Environment and Social Action Plan (ESAP), particularly social related requirements namely resettlement for affected households, grievance management, community health monitoring, supporting local affected people to restore their livelihood;
Manage & mitigate social risks to NSRP (either risk that NSRP might bring to communities or vice versa).
Help branding NSRP as a socially responsible enterprise, actively contribute to development of Vietnam and Thanh Hoa province.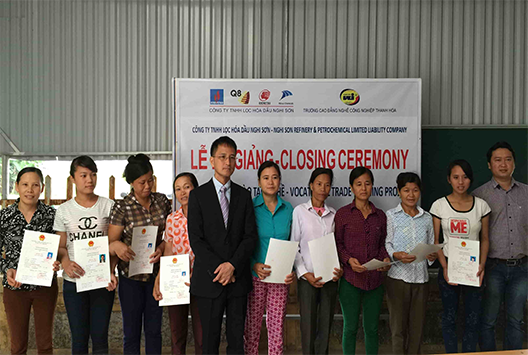 Being a part of HSSE&S Division, NSRP Social & Community Section were fully deployed at site since early stage of NSRP project construction phase, back to 2012. The works primarily involves with communities who are living outsides of refinery fences or in different resettlement areas in order to handle issues relating to NSRP project, including:
Through various programs and interventions, NSRP commits to work with the communities to address their development priorities, to mitigate social risks and create social acceptance, and to bring prosperity and development to the society.