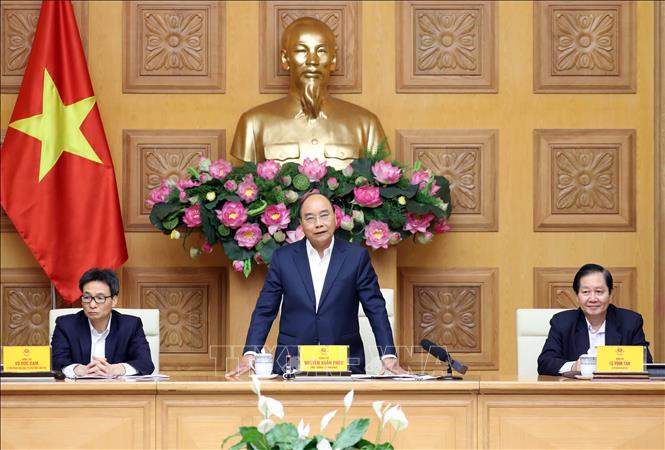 (Chinhphu.vn) – The Prime Minister has issued the Directive No. 16/CT-TTg to implement urgent solutions to prevent and deal with COVID-19 pandemic. Accordingly, making a full social isolation within 15 days since 0:00 of 1/4/2020 nationwide in accordance with principles of: family-isolated family, village-isolated village, commune-isolated commune, district-isolated district, province-isolated province; workshop and factory must ensure safety distance, wear the facemask, perform disinfection, bactericidal as prescribed.
Content of the Directive is as follows:
The COVID-19 epidemic broke out on a global reach of over 72 thousand people, nearly 3.5 thousand deaths in over 200 countries, territories and no signs of stopping. In Vietnam, the number of acquired cases has been increasing rapidly by day and been at high risk of infection in the community. It is forecasted that the epidemic will spread rapidly on a wide area, threatening seriously to people's life and health as well as society and economy of the country.
To take the call of the General Secretary and President HE. Nguyen Phu Trong, with the spirit of prioritizing health and human life on top, in order to continue the proactive prevention and control of the epidemic, the Prime Minister requires the Ministries, Ministry-level agencies, government agencies, the Provincial People's Committee and Central cities to focus highly to implement the epidemic counter-measures proposed, especially Directive No. 15/CT-TTg on March 27, 2020 in compliance with the direction of the National Steering Committee to prevent and control COVID-19, effectively implementing the following urgent measures:
1. Make a full social isolation within 15 days from 0:00 on 01st April 2020 nationwide in accordance with the following principles:  family-isolated family, village-isolated village, commune-isolated commune, district-isolated district, province-isolated province; workshop and factory must ensure safety distance, wear the facemask, perform disinfection, bactericidal as prescribed. Request all people to stay at home, only go out for critical needs such as food and medicine purchase, emergency, working at the factory; production facilities and stores that provide essential goods are not closed and stopped operation as well as other emergencies; strictly take minimum distance of 2m in communication; do not gather more than 2 people outside of office places, schools, hospitals and public places.
The PM asks the whole people to voluntarily comply with the requirements and epidemic counter-measures, actively participate in voluntary medical declaration, perform a full range of protection measures for themselves and their families and participate responsibly with anti-epidemic activities of functional bodies and communities; Head of production and business establishments of goods and services are responsible for the application of anti-epidemic measures at the facility, ensuring the health and safety of workers.
2. Ministry of Health, Ministry of Public Security, People's Committee of Hanoi City, Ho Chi Minh City People's committee must be always in the spirit of speed, resolute and focus all resources and by all solutions to thoroughly settle the "outbreak" at Bach Mai Hospital (Hanoi) , Buddha Bar (Ho Chi Minh City); utilize every hour, every minute to trace, apply appropriate measures for all cases who may contact the sick and who pass the "virus hub areas; continue to call on people who have passed such "virus hubs" to execute medical declaration and ask them to contact to be tested. Request the Ministry of Public Security to coordinate with the medical industry to list people involved in the activities of Truong Sinh company with the risk of infection for medical monitoring, isolation to thoroughly and quickly settle the sources of disease infection.
The People's Committees of provinces and cities that are involved will closely coordinate with the relevant Ministries and the two Cities to perform this task well. Perform family isolation, medical declaration for classification, laboratory testing and centralized isolation if necessary, for the person who has passed the Bach Mai Hospital from March 12th 2020; the local administration is requested to strictly supervise each family.
The Ministry of Public Security and the Provincial People's committees continue to urgently carry out medical scanning and checking, update health situation of those who have entered the country since March 8th 2020 but have not been applied isolation; make list of people who have been in direct contact, close contact to sort screening, apply appropriate isolation measures (centralized isolation, isolation at home or at residence areas).
3. State agencies and units arrange their officers to use information technology to work at home; only necessary cases such as standby to fight, standby at the office, supplying essential goods and services, processing confidential documents and other necessary tasks required would the officers need to work in the workplace; enhancing the online video conference. The head is responsible for the officers and employees who infect the epidemic due to non-compliance with the epidemic prevention at workplace.
4. The Ministry of Transport, the People's Committee of provinces and cities direct to stop the transport of public passengers. Maximum restriction of travel from one location and region to others; stop moving from epidemic-acquired areas to other places, except for special cases for public service reasons and cases of food supply, necessities, vehicles to transport workers and specialists of enterprises, carrying raw materials for production.
5. For Ministry of Health:
a) Direct hospitals to conduct strict procedures and management, avoiding cross-contamination in hospitals; strictly control and request mandatory medical declaration requirements for the patients, family members and patient-caregiver; each patient has only a caregiver; stop visiting patients in medical units. There are strict provisions on the reception of patients, not letting an infectious individual that affects the functioning of the entire hospital.
b) To propose specific mechanisms and policies to support domestic enterprises in producing equipment, medical instruments, especially ventilator, patient monitoring machine, infusion machine, dialysis machine and report Deputy Prime Minister Trinh Dinh Dung for further direction.
c) Report the Prime Minister's schemes, scenarios and the possibility of application for emergency services on the afternoon of March 31st, 2020.
d) Organize and arrange for further medical treatment at Bach Mai Hospital (Hanoi), ensuring the safety of officers, health workers and people on the recommendation of the Steering Committee and the Ministry of Health.
đ) Review and handle the petitions of the Hanoi People's Committee, support and facilitate Hanoi to control disease in the district.
6. The MOH summarizes and periodically publish 2 times/day the results of positive test in all places, ensuring accuracy.
7. Temporarily close the main gate and the side gate for people crossing from 00 hours on 01 April 2020 on the border line with Laos and Cambodia. Strict control of entry through international checkpoints on road boundaries; all immigrants from Laos, Cambodia are subject to 14-day isolation.
8. The Ministry of Defense directs, organizes and expands the facilities of centralized isolation, separation of newly isolated and on-going isolated cases, no cross-contamination; enhance trail management and open ways across the borders.
9. The Ministry of Public Security enhances the direction to protect security, crime prevention, especially for the countryside.
10. The Ministry of Finance steers the General Department of Customs to handle obstacles in exporting fabric facial masks; requires the insurance enterprises not to introduce and implement insurance package related to COVID-19 disease.
11. Ministries, branches, localities and press agencies continue to promote information and propagandize to protect the health of the people, to correct some of the news outlets that create confusion and misunderstandings. The responsible person for epidemic prevention and control must not speak to create chaos in the people.
12. Ministry of Industry and Trade, the local People's Committee pay attention to ensure essential foods and goods to the people.
Source: http://baochinhphu.vn/Tin-noi-bat/Thu-tuong-chi-thi-Cach-ly-toan-xa-hoi-tu-0-gio-14-tren-pham-vi-toan-quoc/391484.vgp