Back to the news list
Vietnam's medium sulfur gasoil inflows set to increase on government mandate
Vietnam's gasoil imports are set to remain well-supported in the near-term after the government mandated a minimum import volume for oil products to make up for the supply gap left by Nghi Son refinery's reduced run rates, market sources said, placing a floor under prices for the medium sulfur grade.
According to local media reports, Vietnam's Minister of Industry and Trade has mandated ten oil companies Feb. 24 to collectively import a minimum of 2.4 million cu m of oil products in the second quarter of 2022, including 1.56 c um of diesel.
"Vietnamese spot demand is helping the sentiment … heard a lot more cargoes (ex-Korea) sold to Vietnam after the Nghi Son issue," said a gasoil trader based in Singapore.
S&P Global Commodity Insights oil market adviser JY Lim echoed a similar sentiment, adding that Vietnam's GDP growth is expected to accelerate to 7% in 2022, up from 2.5% last year, and gasoil demand will likely see a jump as economic activity picks up momentum this year.
Gasoil supported, remains elevated
Medium sulfur gasoil market has seen firm support from increased import demand from Vietnam, with spot cargoes heard changing hands at higher prices.
According to trade sources, Saigon Petro has awarded its latest buy tender for 10,000 mt of 500 ppm sulfur gasoil for delivery to Cat Lai over March 8-12 at a premium of $5/b to Mean of Platts Singapore 500 ppm sulfur gasoil assessment. The company last bought a 10,000-mt parcel for delivery to Cat Lai over Jan. 20-25 at a premium of around $1.85/b to MOPS 500 ppm sulfur gasoil assessment.
Also reflecting the strength in the complex, the cash differential for 500 ppm sulfur gasoil cargoes loading from the main trading hub of Singapore jumped 12 cents/b day on day to a fresh record high at $1.78/b to the MOPS gasoil assessment at the 0830 GMT Asian market close March 1.
This marks the highest premium the gasoil grade has been since sulfur specification of the flagship Singapore assessment was revised to 10 ppm from 500 ppm in Jan. 2, 2018, S&P Global Commodity Insights data showed.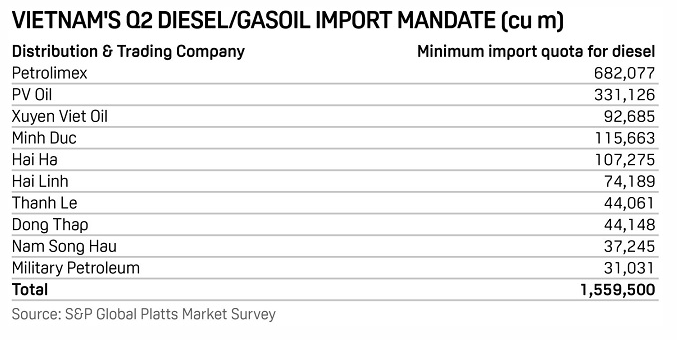 Still, several market participants expect incremental inflows of gasoil into the Southeast Asian country to be capped by strong outright prices, which was making procurement increasingly unaffordable.
"It was a crisis," said a trader with a North Asian refinery. "More and more buyers cannot afford such high oil price". "Hearing that [gasoil] outright prices are too high for them to consider; thus they will make an effort to import as little as they can," said the Singapore-based gasoil trader.
FOB Singapore 500 ppm sulfur gasoil outright price surged to a 90-month high at $117.31/b on March 1, up from an assessment of $114.91/b the previous day, S&P Global Commodity Insights data showed.
It was last assessed higher on Aug. 14, 2014, at $117.75/b.