Date: 1st Feb, 2019
Subject:  PROVISION OF GOODS AND ENGINEERING SERVICES FOR SECURITY CAMERA SYSTEM TO MONITOR JETTY AREA
Ref. No.: 015/2019/NSRP-PS
Nghi Son Refinery & Petrochemical Limited Liability Company (NSRP) is planning for procurement of a package for "Provision of goods and engineering services for security camera system to monitor Jetty area" in order to select a suitable contractor for provision of the Goods and engineering services for camera system. The tentative date of commencement of the provision of this services will be around within March, 2019
NSRP plans to start the above-mentioned procurement process very soon. Please fill in and complete questionnaire below in a sealed envelope, state clearly "Provision of goods and engineering services for security camera system to monitor Jetty area" including 01 originals, 1 copies, and one (01) electronic document in USB and send back to us by following address by 4:00 PM – 12th March, 2019.
Nghi Son Refinery and Petrochemical LLC
Attention: Mr. Ho Khai Hoan – Procurement Department Manager- Secretary Major Tender Committee
Ms. Le Ha Hoa – Procurement Assistant.
Address: 23th floor, East Tower, Lotte Center Hanoi, 54 Lieu Giai Str, Cong Vi Ward, Ba Dinh Dist, Hanoi.
Should you have any question, please contact us at hoan.hk@nsrp.com.vn and copying hoa.lh@nsrp.com.vn for further information.
For the avoidance of doubt, this notice does not constitute any contractual offer, binding promise or guarantee of business by NSRP. Neither shall your satisfaction of all the minimum requirements mentioned above nor your response to this notice creates any promise or guarantee by NSRP that you will be invited to participate in the above mentioned procurement process.
Please provide the following information of your company.
Name:
Address:
Tax Code:
Contact person:
Contact details:
Brief description of your company's qualifications and experience in providing services
Questionnaire:
Please answer the questions below:
Part 1. Survey questionnaire
QUESTION 1: Do you have a clear intention in provision of goods and engineering services for security camera system to monitor Jetty area 
Yes
No
QUESTION 2: Can you provide business registration certificate of your company?
Yes
No
QUESTION 3: Is your company manufacturer or authorized from manufacturer for supplying the equipment?
Yes
No
If yes, please provide the proved relevant documents (i.e certificate and/or supporting letter from vendors)
QUESTION 4: Does your company have more than 2 years' experience in providing the security camera system?
Yes
No
If yes, please provide the list of similar contracts and at least 2 full copy of executed contracts/ purchase orders.
Summary of the Scope of work
General
Nghison customs authorities (NSPC) requests NSRP to install a camera system to supervise activities at NSRP jetty port, container bays in Refinery …The video signal will be transmitted to NSPC's monitoring center (about 5 KM far from NSRP' refinery) to supervise operating of ships, trucks in 24h/ 7days.
All of cameras data has to kept on server for at least 12 months so NSPC can extract data and playback when needed.
NSRP have already been provided a camera system to supervise activities inside Refinery (S-CCTV). This System includes 5 minoring centers located around Refinery and it does not support remote monitoring and sharing data with NSPC.
Based on actual situation, in order to meet request of NSPC, NSRP needs to setup up a Hybrid system that dedicates cameras, network video recorders, severs for transition data to Thanhoa customs office, but share the backbone and network switches with NSRP security system (S-CCTV)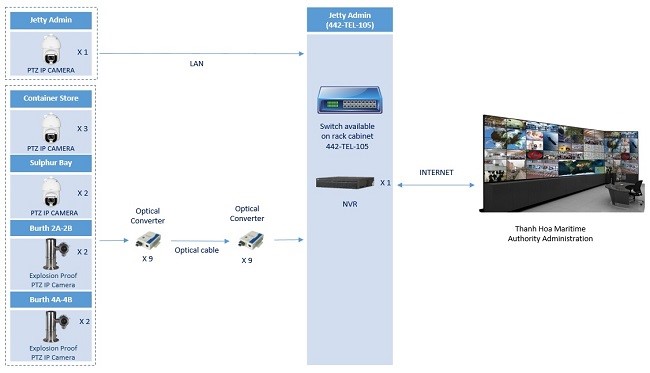 The sizes and quantities indicated in the requirements set out in this Scope of Work will be used as guideline only. The Contractor shall re-size and verify all quantities and dimensions during the detailed design. The Contractor must optimize the requirements with respect to safety, operability, reliability, and life –cycle costs of the provided equipment.
The Contractor shall cooperate with NSRP to carry out a survey at NSRP Site to evaluate the current system, collect information about current System configuration, number connections, data flow, physical connections to identify the Final Requirements.
After completion of the survey, the results of the site survey will be delivered to NSRP along with all design documents detailing recommended to build up system to meet requirement that identified
Equipment and Services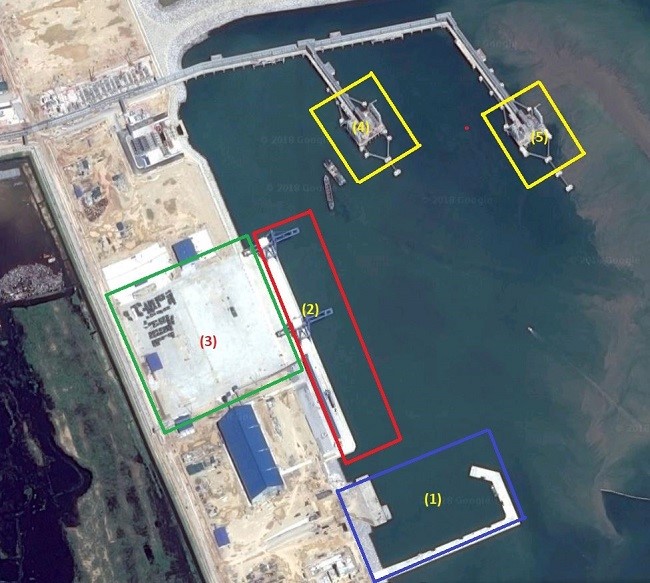 Ten (10) cameras will be installed at specific areas
Area 01: To monitor the activities of service ship team at harbor close to Jetty Admin
Area 02: To monitor the activities at Sulphur storage.
Area 03: To monitor the activities at container area.
Area 04: To monitor the activities at Berth 2
Area 05: To monitor the activities at Berth 4
Equipment and materials