Date: 18 February 2019
Subject:  TON BAG FOR ESP ASH
Ref. PR No.: 1100001573.1
Nghi Son Refinery & Petrochemical Limited Liability Company (NSRP) is planning for purchasing of a package for "Ton Bag for ESP ash" in order to select a suitable contractor for provision of the Goods & Services for NSRP. The tentative date of commencement of the Goods and services will be in early Nov 2018.
NSRP plans to start the above mentioned purchasing process very soon. If your company is interested in this purchasing package, please respond to all questions in the questionnaire attached in Attachment 01 and send to the following address by 5.00 PM (Hanoi time 25 February 2019.
Attention           : Mr. Ho Khai Hoan – Procurement Section
Email address   : oanh.tt@nsrp.com.vn ;
Cc                    :  hoan.hk@nsrp.com.vn
Please put "Ton bag for ESP ash" in the subject of your cover email.
Should you have any question, please contact us at oanh.tt@nsrp.com.vn and copying hoan.hk@nsrp.com.vn for further information.
For the avoidance of doubt, this notice does not constitute any contractual offer, binding promise or guarantee of business by NSRP. Neither shall your satisfaction of all the minimum requirements mentioned above nor your response to this notice creates any promise or guarantee by NSRP that you will be invited to participate in the above mentioned purchasing process.
Please provide the following information of your company.
Name:
Address:
Tax Code:
Contact person:
Contact details:
Brief description of your company's qualifications and experience in supplying services
Questionnaire:
Please answer the questions below:
Part 1. Survey questionnaire
QUESTION 1: Do you have a clear intention in supplying the tone bag for ESP ash with specification in the attachment 1? 
Yes
No
SHAPE  \* MERGEFORMAT
QUESTION 2: Do you have business licenses or permits to supply the goods?
Yes
No
If yes, please provide the proved relevant documents.
QUESTION 3: Have your organization got experience for more than three (03) years in providing the goods and/or equivalent goods
Yes
No
If yes, please provide the proved relevant documents.
Attachment 1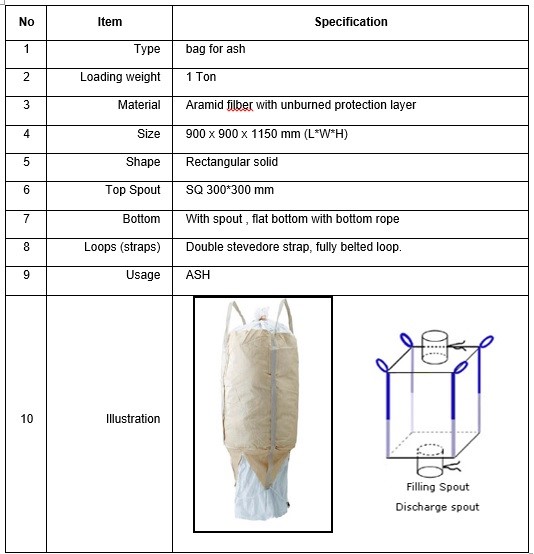 ATTACHMENT 1:
SCOPE OF SUPPLY
REQUEST FOR QUOTATION FOR SUPPLY ONE-TON BAG FOR ESP ASH
1. BACKGROUND AND PURPOSE OF THE PURCHASE
Background
During operation, flue gas from boiler is through ESP (Electrostatic Precipitator), ESP removes ash from flue gas to 1 tone bag. Supporters remove one-ton bag from ESP to ash fill by forklift and this bags are damaged during transferring by forklift.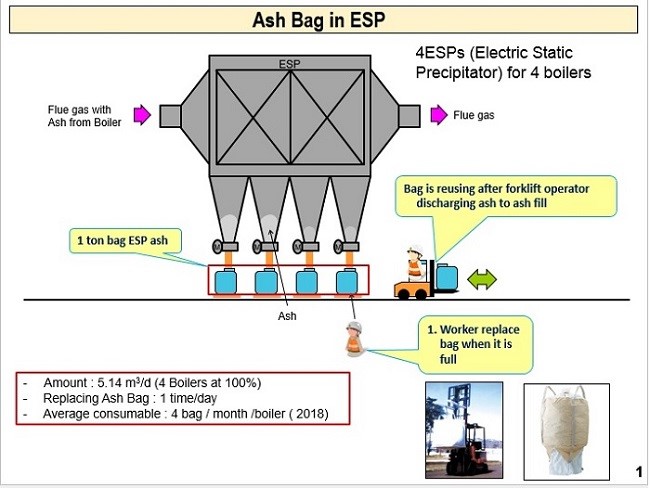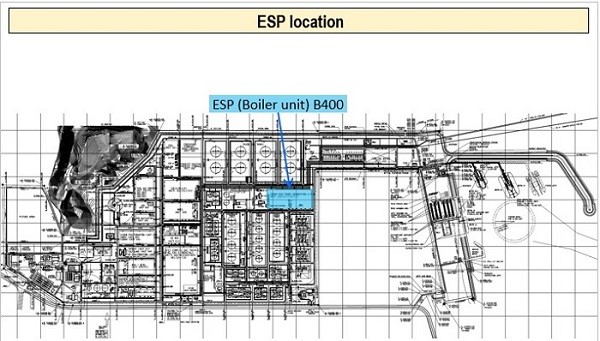 1. SCOPE OF WORK
a. NSRP demand and schedule
– Quantity: one-ton Ash-Bag:       192 bags/year.
– Delivery period: Mid of December 2018.
– Each time NSRP wishes to purchase a part of the above amount of one-ton ash bag, NSRP will deliver a Purchase Order specifying the quantity of one-ton ash bag to be supplied and other relevant terms and conditions for such purchase.
b. General Requirement
Supplier is requested to guarantee to supply one-ton ash bag, which satisfy NSRP's specifications set out in the Request for Quotation and its attachments.
c. Specification (Please refer to the next pages for information)
The GOODS must meet the following specifications: